Google Drive v. Digital Asset Management - What's the Difference?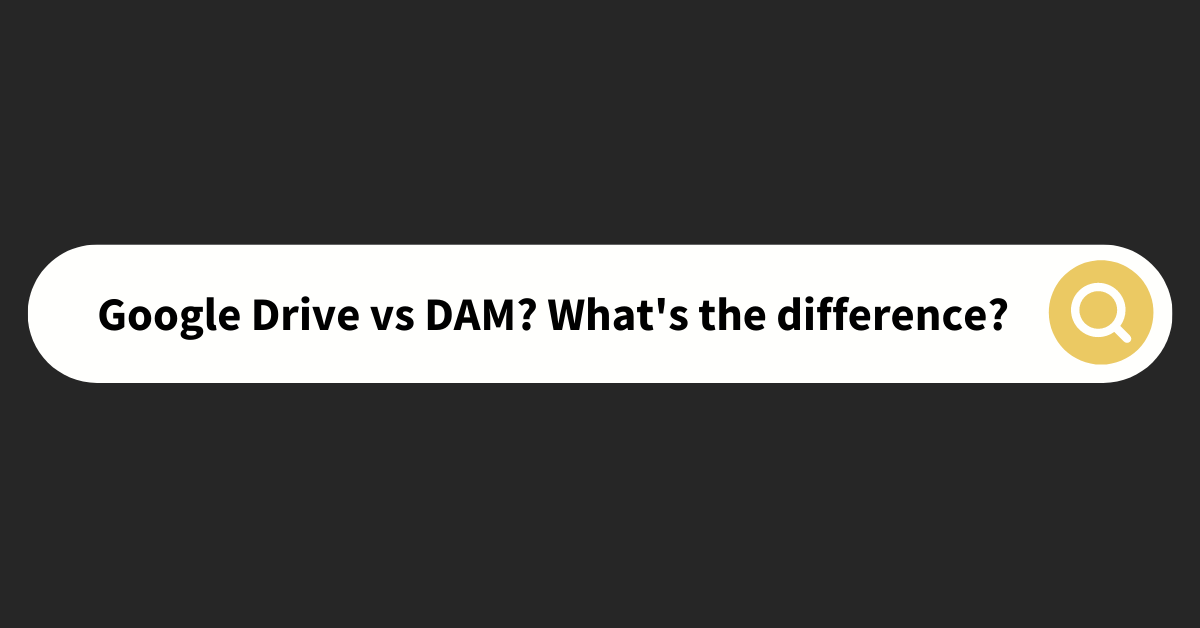 How are you different than Google Drive? It's a question we hear a lot at the beginning of conversations with prospective clients.
We understand. We'd ask it too if we were looking into digital asset management. Google Drive is a familiar and useful tool and, frankly, at Image Relay, we couldn't work well without it. It's great for creating and managing documents and it's convenient for collaborating with coworkers. When it comes to the intended purpose, managing sharing and organization, and supporting relevant work, however, a DAM and Google Drive become starkly different.
1. Purpose & Scope
Right off the bat Google Drive and DAM platforms differ in what they're designed to do. While Google Drive is a cloud storage and file-sharing solution it is not specialized for managing vast quantities of digital assets. Rather, it's more commonly used for document collaboration and general file storage. Helpful, but not enough to meet the organizational demands of a busy company.
A comprehensive DAM will offer features like customizable metadata, version control, integrated digital proofing for creative projects, and the ability to integrate with a PIM (product information management) platform.
DAM platforms are also designed to handle images, videos, text documents, PDFs, Excel sheets, slide decks, and design files, among the many other types of digital files a busy company requires. On the other hand, Google Driven competently handles a far more narrow range of file types.
2. Searching: Always find what you need when you need it
Because Drive is primarily built for management by the individual user, you get a mixture of "My Stuff" in areas that should appropriately be "Our Stuff." Organizational structures that work for one individual may make no sense to others so it tends to take some luck to find what you want. DAM platforms feature specific functions designed to make searching and organization quick and easy. One feature unique to DAMs is customizable metadata fields.
What is metadata? Essentially, it's information about your information. Any contextual data about your files is considered metadata. Metadata can include keywords, tags, descriptions, copyright information, expiration dates, recommended use, and more. Detailed metadata makes it easier to search for, categorize, and properly use assets.

3. Protecting your brand
A lack of organization often leads to a lack of brand security and consistency. It's tough to provide a strong brand experience when your library is full of content uploaded by any user with little structure. Or, when anyone can download anything.
Digital asset management puts your brand in your hands. As a repository of only approved assets, all users know what is current, and contextual information in the metadata lets users know how and when they can use the content.
Customized permission levels provide another level of certainty that current assets are only being used for their intended purpose. For example, if your brand has created a permission level called "Vendors" you can rest easy knowing that no "Vendors" will be allowed to access your internal company documents or download expired, outdated brand assets.
Other tools like Collections and embed links let DAM users keep previously shared assets up to date at all times without having to send out new links or change things in a content management system.
4. The visual look and feel
Google Drive is built for file storage and collaboration, not for presenting your brand. Digital asset management systems are built for presenting your brand and presenting the important information you need to know about the content. That means customizable thumbnails, a visually focused layout, previews for almost all file types, and metadata that stands out for each file. Digital asset management systems provide visual reporting on asset use and users.
Another big difference in the presentation of assets is that digital asset management systems provide tools, like Collections, that give users the ability to curate assets in customizable ways and share them internally or externally.
If you're a product company interested in a similar function for displaying your product information and assets we offer a feature called Catalogs. Catalogs are included in the PIM side of our Marketing Delivery platform.
Want to learn more about how a DAM could benefit your company? Schedule a free demo with one of our team members to get all the details. Choose a time here.