A Day in The Life of an Image Relay Librarian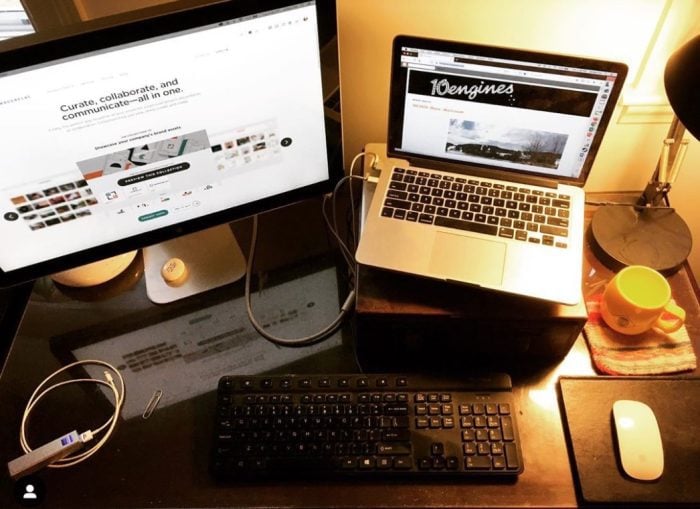 The career track of the digital asset management (DAM) librarian is entirely unique to Image Relay. We're the only DAM (and PIM!) solution that offers a team of librarians to support customers with onboarding and offer new and long-term clients technical and strategic support. With a college degree in Library sciences, our librarian team has expertise in traditional strategizes as well as a vast range of knowledge in modern-day digital librarian practices.
We want to help our customers reach their goals and have a high-quality, successful experience across their entire journey, starting at the beginning of setup. Helping a customer meet their goals is the most important thing when it comes to the value they receive from our platform and the return they see on their investment.
This post describes what I do each day to help get customers "there".
It Starts! - Information Gathering
I typically get involved with new customers during the sales process to understand what their use cases will be. Why do we do this? Since the librarian team is involved in the implementation work, we are well-positioned to flag any potential challenges from the client's intended use of our system and uncover opportunities for ways they might complete their tasks more efficiently.
Is the client a retailer or a media agency, a university, a manufacturer, or a health care service provider? We often find the same pain points surfacing again and again motivating clients in different industries to search for a solution like ours.
Looking at a client's Facebook company page, LinkedIn, Twitter, and other social feeds gives us a feel for the client's business manner, as well as a quick indication of the scope of their branding requirements. Press releases, industry publications, and other public assets are browsed for similar reasons. Are the clients going through a rebranding? What departments are engaging us first? How else can we assist the client overall so they can gain more value from digital asset management? These are all questions we look into early.
The type and scale of materials and distinct workflow of companies will inevitably affect the strategy for implementation and later use of our platform. What file types do they use, what are their sizes, and how do different departments interact with them? All of this should be understood by the client and Image Relay librarians early on so launch dates can be accurately forecasted and expectations set for all stakeholders.
To be a successful working partner for a customer, we must know the distinct use the client has for Image Relay but also educate ourselves about their industry and internal vocabulary. The intent here is to become informed about a client's practices so that we may anticipate their future asset management needs.
Over time the Image Relay librarians become trusted assistants, and we aim to be 'pluggable' members of the customer's team when needed. There is inevitably some cross-over in use cases as utilizing a DAM has common themes across many markets–such as asset centralization, brand consistency, user self-service, integrations, and asset distribution.
Bespoke Is Not Just for Suits…
When clients come to us to get completely reorganized, and they have little or no digital asset management experience, we typically speak with the marketing departments or IT departments first. The ones who have their hands on the assets in question. We then begin the process of discovery and review to recommend a file/folder/metadata structure that works for that customer's specific needs. It's a custom, or bespoke, treatment every time.
I often coach clients and provide ideas on how to solve strategic problems like designing a library for sales rep and dealer access, internal self-service, internal-only brand centers, URL sharing to e-commerce sites, and public/press access. Some need simple library structures and can operate in days or weeks while others require more customized solutions.
Every Day Is Different…
As new customers engage us for their DAM needs, there is general onboarding, data migration, employee training, quarterly or yearly reviews planned according to their goals, and more. These planned meetings with many new clients and existing clients each month mean a tapestry of launch meetings at various stages. For example, here's what my schedule in February looked like, each dot is a planned client meeting (in addition to the many ad hoc or unplanned meetings). Green slots are internal meetings and company-supported monthly Volunteer Time Off.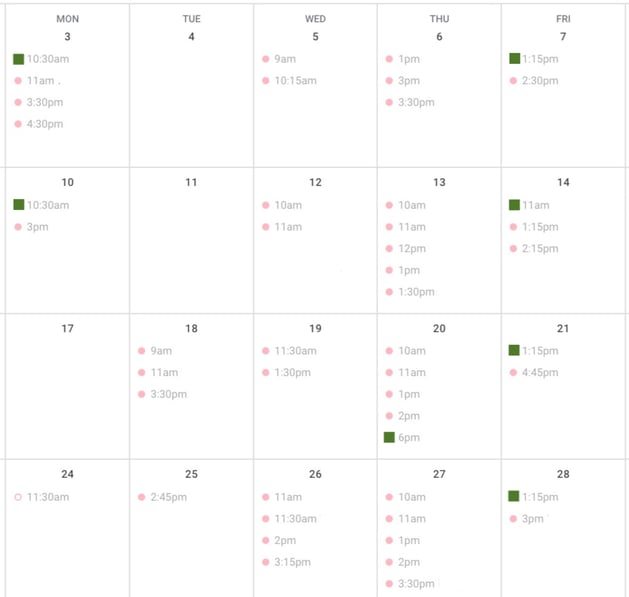 The pace of the work depends on the size of the engagement and the readiness of the client. But typically, we will educate around our distinct features and the application itself as a variety of "steps to launch" in each stage, such as:
• Branding Tools
• Folder Organization
• Metadata Practices
• Uploading
• Permissions and User Options
• Library Training
We manage multiple implementations in different stages, and customers often leapfrog each other. In addition to the implementation work, I spend dedicated time most days responding to support questions via live chat and email and also work to keep our help library full of relevant support articles. The remainder of my time is spent coordinating with our product and design team on new features, updates, and any system bugs.
At Image Relay, we are fortunate to engage in Volunteer Time Off. For me, that involves the administration of our local friends of the public library for several hours each month. Our remote work environment segues very well with volunteerism, and time 'lost' or away from our desk is minimized as commute times reach zero.
There's certainly more, but that is a snapshot of the kinds of things I do each day at Image Relay. If you want to hear more, don't hesitate to contact me via LinkedIn or through the chat bubble over there on the right.