Understanding User Mapping in Digital Asset Management (DAM)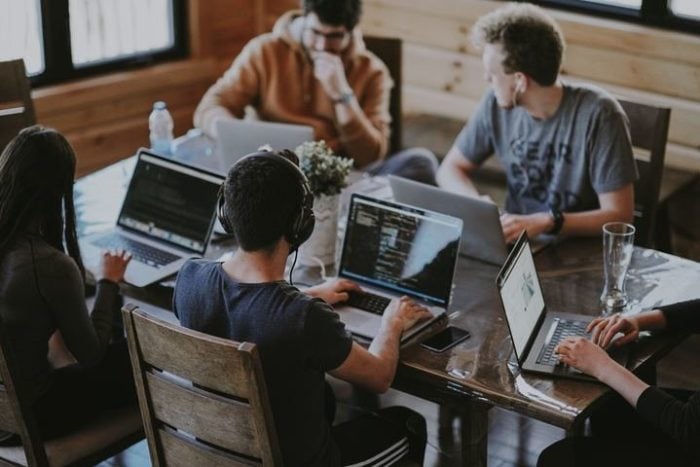 There are many people who will interact with your assets during their life cycle: designers, marketing directors, photographers, content strategists, developers, and more. User mapping is a critical early step in your implementation and is all about understanding who these people are and what their needs will be around your new digital asset management system.
A User Map is the result of a review of the roles people play at your organization, as well as roles of external vendors, contractors, and guests of various types. User mapping will directly lead to guiding later parts of the implementation process, such as building the library organization, creating permissions, and setting up workflows.
During your user mapping process, you will get the answers to the following questions:
• Who are your users?
• How do they accomplish their work?
• What content do they need to achieve success?
Create a User Inventory
The first question you will need to address is who are the users that will be accessing your digital asset management system? There are a number of methods to collect this information from internal and external users, be they individuals or groups. But first you must decide who to include in your information gathering, or discovery phase, as it is often called. Which departments and roles need Digital Asset Management? The short answer is, "all of them" but for practical reasons we don't include every single member of your enterprise in the process.
Method One:
Start with your organizational chart (if you have one). This should lay out the individuals in the various groups and teams at your organization. It is a good starting point for who to include in surveys and other information gathering. Maybe everyone is included in your initiative or maybe it is just those in your marketing and creative departments. This all depends on what your organization has set for the goals of the project.
Method Two:
If you don't have an organizational chart, think about the life-cycle of your assets. Ask yourself, how do your assets get used and who touches them in that workflow? For the asset life-cycle participants you should consider all the groups who touch digital assets from asset creation to final delivery. As illustrated below this might begin with the content creators, then those that give marketing approval, then web teams or e-commerce, including IT, and those that provide notifications to internal sales teams and even external sales representatives.

Digital Asset Management Software Workflow
In this process you will have identified internal and perhaps external audiences including executives, partners, employees, and perhaps current clients and vendors.
Envision those that will use the DAM in future, for example:
• Creative Directors will create Collections of approved images to share with the rest of the creative group and agencies; this saves them time and cuts down on image requests.
• Event Managers keep supporters and sponsors top of mind. These external contacts are central to your planning. They will contribute keywords of all significant names and partners so they are spelled correctly throughout the library.
• Product Managers will create profiles for different types of files uploaded (product image, manual, video) to handle contain different and unique fields to address criteria specifically associated with the file type. Manufacturers with hundreds of products and dedicated PIM may need custom fields associated with each image, such as SKU, product ID, copyright.
You will need to track the information collected, and a standard spreadsheet will do. This list of participants will be your user inventory; the names, contact details, and roles of those in the organization who must be interviewed and included in the scoping of responsibilities and actions for the implementation, and later activity and use in the DAM.
Digital Asset Management Software User Inventory
Understand Your Team's Needs
With your user list you are now ready to gather information about their intended use of the DAM. What are the current pain points you are looking to solve? You can also use this as a chance to uncover workflows and shadow IT tools in use. There are three ways you can complete this data collection process; surveys, interviews, and focus groups.
Method One: Surveys
Surveys should be sent to individuals, and recommended to be anonymous so any politics around workflow and responsibilities is removed. Even better, if your digital asset management vendor sends the survey, the answers are one step further removed from internal politics. Although the responses may be anonymous it is important to record the role of the respondent. A Google survey or SurveyMonkey survey will suffice for this step in the process.
The survey may be preceded by an introduction to the initiative, (example language below you can steal...)
"One of the key tenets of a strong Marketing Operations foundation is governance – the processes, procedures, and policies that optimize our marketing functions, resulting in internal work efficiency and a consistent brand experience externally.We have identified a clear opportunity to improve governance in our digital asset management (DAM) life-cycle. Image Relay is helping us review our current workflows.This critical step allows us and Image Relay to understand our broad digital asset needs through a series of un-biased interviews with all stakeholders. We will be contacting you soon to set up interviews. Before an interview please fill out the short online survey below…"
Example survey questions:
| | |
| --- | --- |
| Survey Question | Response |
| What is your title, and role and what does that entail? | Your Answer |
| What types of files do you find yourself looking for regularly? (or hope you can find) | Your Answer |
| What types of information do you regularly share as part of your job? Who do you share it with? What tasks do you typically need to get done, who and which departments are you interacting with on a daily basis etc. | Your Answer |
| What other resources do you or the company use at work? What do you like/dislike about those apps/products - where can Image Relay fit in these workflows. | Your Answer |
| What are your top 3 challenges you come across when searching and sharing files? Tell us about the last time it happened, why its hard or a problem. | Your Answer |
| How have you dealt with these problems today? Have you hacked any solutions together, use other software. Do and don't like about the solutions you tried. | Your Answer |
| If you could wave a magic wand and instantly have a solution to any of those problems…what would the solution be? | Your Answer |
| If you could wave a magic wand and instantly have a solution to any of those problems…what would the solution be? | Your Answer |
Method Two: Individual Interviews
From the groups of all respondents to the survey, pick the most engaged users, those that detailed the deepest current pain points. Include a mix of hands-on staff as well as management and executives. This may mean one or two respondents from each department. How many people should be interviewed in total depends on the size of the organization. You want to avoid paralysis in the process, but in most small or mid-sized companies one would expect to interview about 10-12 managers and heavy regular users.
What sorts of questions should you ask the chosen respondents for interview? If you've already sent out a survey, you will follow up on their highlighted pain points. You can also take this opportunity to be deskside with them to view their workflows and application interactions. (A remote screen share walkthrough may be more appropriate these days than an in-person over-the-shoulder view.) If there has been no survey and you are meeting for the first time, you can ask broader questions and then dig in depending on their answers.
Sample Follow Up Questions Might Include:
| | |
| --- | --- |
| Survey Question | Response |
| Walk through an overview of daily tasks - which apps are interacting? Follow up on the tools they currently use? | Your Answer |
| What are their challenges (from the survey)? | Your Answer |
| What types of assets/images do you need to access? Where do you look for them now? Are they found when you search? | Your Answer |
| How are users accessing the system? | Your Answer |
| How are assets used inside of your organization? | Your Answer |
| Walk through how assets are distributed. | Your Answer |
| Describe the lifecycle of an asset | Your Answer |
Method Three: Focus Groups
Larger organizations may need to use focus groups to compliment individual interviews. Leaders of the initiative may conduct these sessions or lean on the managers of the groups themselves depending on your availability. Similar questions may be asked to the interview process, again to will want to hear about the general roles, challenges, and wish lists from these departments that are related to DAM and your wider initiative.
The focus groups are not a design ideation workshop on how to build a DAM, but rather a further investigation of user's current workflows. From these groups will surface their pain points and feedback to be addressed. Those users can then be grouped to later ensure they are provided with correct permissions to complete all necessary tasks.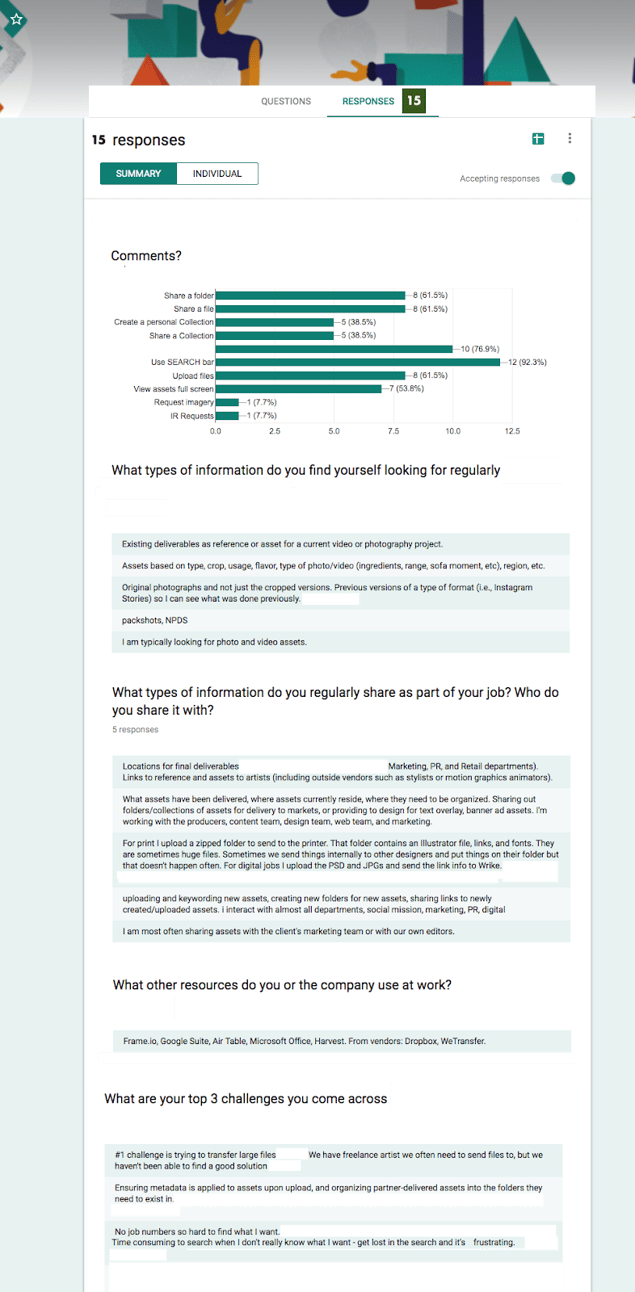 Digital Asset Management Software Implementation Survey
The data collection during the discovery process serves several purposes:
• Improves the quality of data you will collect by including a wide array and larger number of respondents.
• Including these participants creates goodwill with the respondents themselves, as their input is considered valuable. As the respondents are valued their engagement in the initiative will increase.
• The discovery process is an opportunity to mitigate risk by introducing the initiative early in the process, and create the opportunity for a personal interview that will further improve future relationships.
Need a more comprehensive Digital Asset Management Resource?
>>> Download Image Relay's Guide: Why Digital Asset Management?
Assigning General Roles
We will discuss the minutiae of permissions levels and the myriad options in later posts, but at the moment, we can define categories of users from the process.
The individuals listed in this process will fall into one of three wide user groups:
• Consumers of content;
• Creators of content; and
• Administrators of the library
Different applications will use different names, but consumers of content are understood to be "basic," or view-only users. They do not upload new materials. That may mean having a user account on the DAM or simple URL access dependent on your business case.
Content creators are those with upload, or 'write' ability to the library and may come with other responsibilities as well such as describing files (adding metadata). The upload task may be part of the creative department role, or there may be an approval workflow that identifies the marketing department as the uploader.
Administrator duties range from editing metadata rules in the library, inviting and provisioning users, deciding on the library folder structure, and billing. Administrators may also be responsible for completing the implementation of the DAM in concert with the DAM vendor.
One might imagine that your organization's 'decision makers' are immediately the administrators of the library but that is not necessarily the case. Successful DAM needs the administrators to come from an information governance group or manager, or at least self-identified lead marketers or creatives if a smaller firm.
Thinking a little further on this, you may only want to allow some consumers, or basic users to see certain folders for the specific content that they need. Or perhaps you only want individuals to be able to upload to a certain folder. In your spreadsheet, put notes regarding the specifics.

Digital Asset Management Software User Permissions
By now you have listed all potential stakeholders (decision makers) and users. You have surveyed them to discovery current asset workflows and pain points. Then you interviewed a selection of those respondents to see their workflows in action, apps and integrations for consideration and more. In that process you are able to designate which users are consumers, creators, or admins. This information is vital to the creation of permissions. We'll be covering permission creation in other post.
Looking to establish the value of Digital Asset Management in your organization? Read our guide: The Value of Digital Asset Management.
Editor's note: This post was originally published in June 2019. It has been updated for accuracy and comprehensiveness.
For more in our Getting Started with Digital Asset Management Series, check out these helpful resources:
Getting Started with Digital Asset Management (DAM): Managing User Access with Permissions
Getting Started with Digital Asset Management (DAM) Software: Mapping Your Organization's Content
Getting Started with a Digital Asset Management (DAM) Platform: Best Practices for File Types
Getting Started with Digital Asset Management (DAM): Metadata Part 1
Getting Started with Digital Asset Management (DAM): Metadata Part 2
Getting Started with Digital Asset Management (DAM) Software: File Naming Best Practices