Unlocking the Power of Marketing Delivery: 8 Ways it Empowers Merchandising Roles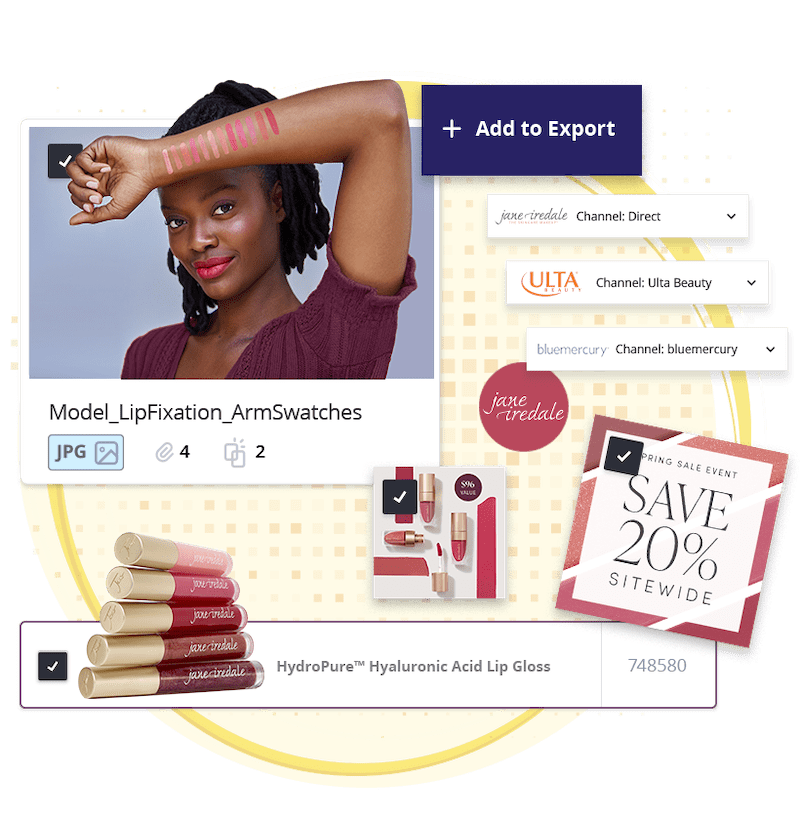 We've heard from listening to our customers in merchandising positions, their role is intertwined with product, marketing, sales, design, creative, as well as external teams.

With this interconnected role, efficiency and accuracy are key. Below are 8 ways Marketing Delivery can help Merchandising teams work collaboratively to launch products faster, execute on projects, and free up time that is historically spent on manual tasks
Centralized Product Information and Digital Assets
Merchandising professionals use Marketing Delivery to manage and maintain accurate, consistent, and up-to-date product info and digital assets across multiple channels, ensuring that the right information is presented to the internal team and customers.
Efficient Onboarding of New Products
When introducing new products, Marketing Delivery streamlines the launch process by providing a structured framework for collecting and organizing product info, digital assets, and supporting marketing collateral. Merchandising professionals can efficiently import data from suppliers, validate and enrich the information, and quickly make it available for marketing and sales teams.
Channel Management and Syndication
Marketing Delivery enables seamless management and syndication of product information and digital assets across multiple sales channels, such as e-commerce platforms like Shopify, marketplaces, and brick-and-mortar stores. Merchandising roles can use Marketing Delivery to ensure consistent product information and descriptions, supporting assets, pricing, and inventory availability across all channels, improving the customer experience and reducing the risk of errors.
Marketing and Promotions
Merchandising professionals can leverage Marketing Delivery to support marketing initiatives and promotional activities. They can associate specific product attributes, such as features, benefits, and target audiences, with marketing campaigns. Marketing Delivery also facilitates the creation and distribution of promotional content, images, videos, and pricing information.
Collaboration and Workflow Management
Marketing Delivery facilitates collaboration among merchandising teams, suppliers, and other stakeholders. It provides tools for workflow management, version control, and approval processes.
Brand Consistency and Compliance
Marketing Delivery helps maintain brand consistency by providing a central source of approved and up-to-date product info, brand assets, style guides, and templates. It ensures that merchandising teams have access to the right assets with consistent branding elements, such as logos, colors, and fonts. This helps in delivering a cohesive brand experience across various channels and touch points.
Product Presentation and Visual Merchandising
Marketing Delivery allows merchandising professionals to curate and organize visual assets for product presentation and visual merchandising purposes. Marketing Delivery can create collections, catalogs, or mood boards to showcase products, create visual stories, or support specific merchandising campaigns. This helps in creating engaging and visually appealing product experiences.
Quick Retrieval and Searchability
Merchandising roles can easily search for and retrieve specific assets based on keywords, metadata, SKUs, or other criteria. This saves time and effort when sourcing or updating visual content for various merchandising activities.
Marketing Delivery: Deliver Marketing Everywhere
Marketing Delivery offers an essential solution for manufacturing marketing teams by providing a single source of truth that organizes and centralizes ever-growing volumes of product information, helping businesses accelerate their time to market. Marketing Delivery makes sharing your product and brand materials easier, improves your customer experience, and accelerates sales.
Here at Image Relay, we've seen and experienced the challenges facing marketing teams and we built this platform as a comprehensive solution to address the lifecycle of how you deliver your brand.
Learn More About Marketing Delivery
Here!