Help Your Team Work Faster With Image Relay's Adobe Creative Cloud Extension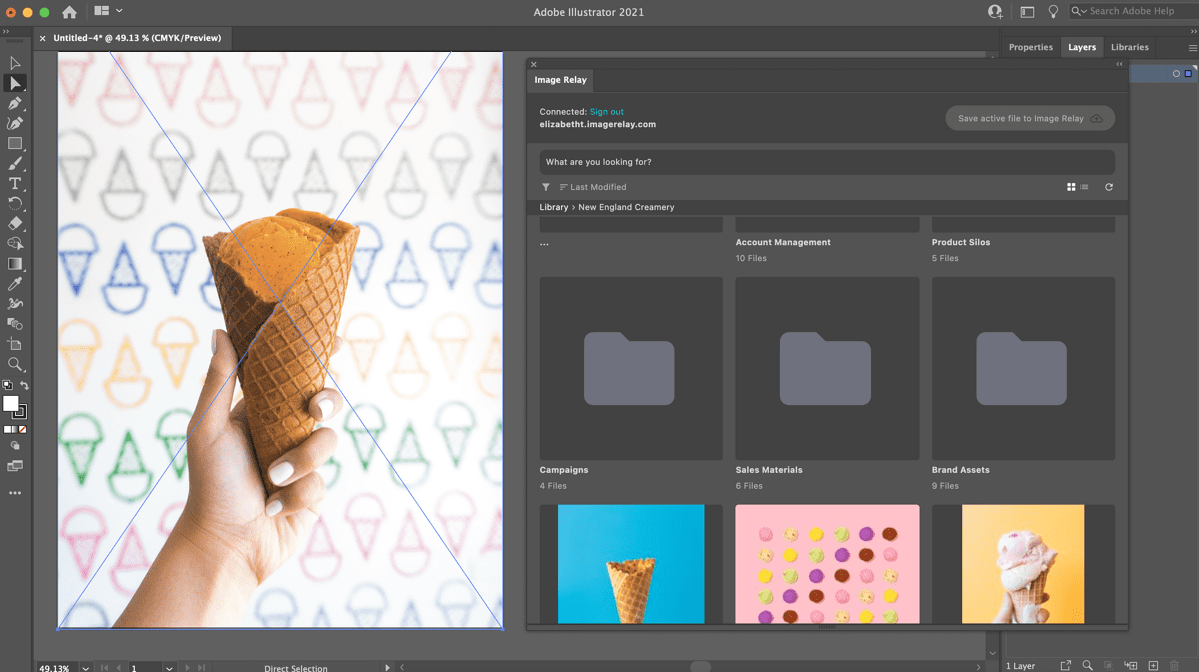 We started Image Relay almost twenty years ago with a commitment to help creative and marketing teams get back more time for creating. We're still committed to boosting creative efficiency and that is why we are proud to announce our new integration with Adobe Creative Cloud.
As creatives and marketers, we all know the value that engaging helps bring to our brand. In today's world there are more channels and more touchpoints to which you need to deliver great brand experiences. The pressure to deliver quality content fast is greater than ever. Content may be king, but speed of content delivery is challenging for the throne.
With this latest integration with Adobe Creative Cloud, we're creating easy ways for creative and marketing teams to access assets and create content faster than ever before. Image Relay's integration with Adobe Creative Cloud enables your central content library to be your creative workflow. Your team works where they are already creating and all of your content is right at your fingertips.
Content Creation Where You Are
This new seamless connection from Image Relay integrates directly within Photoshop, Illustrator & InDesign. Designers can now open assets directly from your company's Image Relay account inside your Adobe tools as documents, objects, or new layers. Any edits you make are then saved right back into your central Image Relay account as updated versions or new files. This update eliminates the need for searching, downloading, and reuploading the assets you want to create with, and helps you to quickly connect and generate the content you need.
Benefits to You & Your Company:
Leverage Existing Assets
Whether you're creating something new or making updates to existing designs, Image Relay's Adobe integration ensures you always use the most current and approved assets from your content library. Search Image Relay for the file you need directly within Adobe by keyword, folder, or any of the metadata you use to make your content discoverable in Image Relay.
Ensure Your Content is Current
Stay on the same page and collaborate with team members and third parties with a centralized place to store and update your brand designs. With this integration, you can make edits to your content within Adobe and save the updated asset to Image Relay, updating the same asset wherever it may be shared. No more worrying about whether an old version of a logo, label, or expired file shows up unexpectedly.
Work Seamlessly Within Your Brand Workflow
At Image Relay, one of our founding values is to help save you and your team valuable time. And this seamless Adobe integration helps you search, find and edit your entire brand content library, giving you more flexibility and timesaving features as you create content to bring your brand and message to life. Why spend more time on something than you need to?
Image Relay's Adobe Creative Cloud integration saves you valuable time in downloading, uploading, and managing multiple versions of your assets. Stop worrying about content getting saved on desktops or languishing outside of your central content library. Your single source of truth will remain your single source of truth. And when your team has more time to focus on creating content instead of managing files the result is higher quality work.
How can you get it?
If you want to boost your team's creative workflows with Image Relay's integration with Adobe Creative Cloud, please reach out to us at sales@imagerelay.com.