Case Study: Dietz & Watson Uses Image Relay to Provide a Consistent Brand Experience

The Challenge:
No consistent access to up-to-date brand images
Expired images out in the market
Slow creative workflows
Time wasted on non-skilled tasks
High risk of losing important assets
The Solution:
A centralized, accessible location for all approved brand assets
A consistent brand message in the market
Improved workflows and asset control
More time spent on creating
Peace of mind
By the numbers:
23 team members
4,500 assets
80 years of history
About Dietz & Watson
Dietz & Watson is an iconic brand that has been producing deli meats in Philadelphia since 1939. Started by a German sausage maker, the company has grown from sausage-making to providing hundreds of deli meat, cheese, and condiment products to retailers across the country. The family-owned operation continues to expand and has experienced rapid growth over the past decade. In 2019, Dietz & Watson aired one of the most talked about Super Bowl commercials for a new product called "Dietz Nuts."

Before Image Relay - "In Shambles"
Dietz & Watson relied on a number of solutions to manage their brand imagery. These included Dropbox, an internal server, external hard drives, and archived material on a number of hard drives and thumb drives. Lynsey Lehr, Dietz & Watson's lead graphic designer, who led the move to Image Relay, described the former state of creative assets as "pretty much all over the place."
Having no central location meant that individuals on the creative and marketing teams would save their favorite assets to their desktops. These assets might have been older, over-used, or even expired. Lehr says this caused teams to use different assets and sometimes different logos. There was a lot of inconsistency that slowed things down and put the Dietz & Watson brand at risk. Images lived beyond their expected life expectancy.
"We would see images that were 5-10 years old out in the world."
With a creative and marketing team that has doubled in the past few years, the challenges associated with managing a consistent brand experience have become harder. Dietz & Watson needed a better solution.
Results
Centralized Assets
Dietz & Watson's core challenge was to get all their important brand assets in one place. Image Relay provided an easy-to-use digital asset management platform where all of Dietz & Watson's assets live. They are securely stored in one place and accessible to team members across the organization as well as to important external partners, including creative agencies and retailers. Dietz & Watson no longer needs a mishmash of options and can rely on Image Relay as their single source of truth.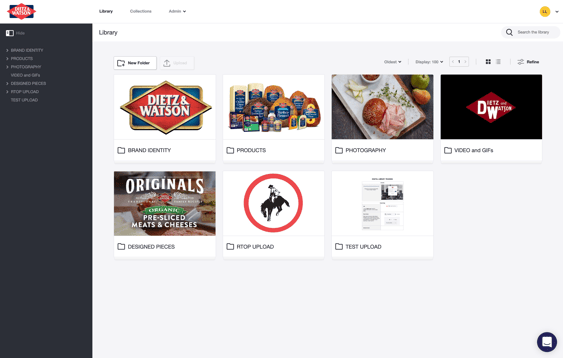 A Consistent Brand Experience
Centralizing Dietz & Watson's brand assets also provides control over a consistent brand story. The team in charge of leading Dietz & Watson's brand experience manages the company's Image Relay platform and provides access to up-to-date, approved assets. Team members know which logos to use and where, and Image Relay's expiration date tool ensures that old images do not go out into the market beyond their life expectancy. This results in a more consistent brand experience for consumers and easier to manage processes by the central brand team.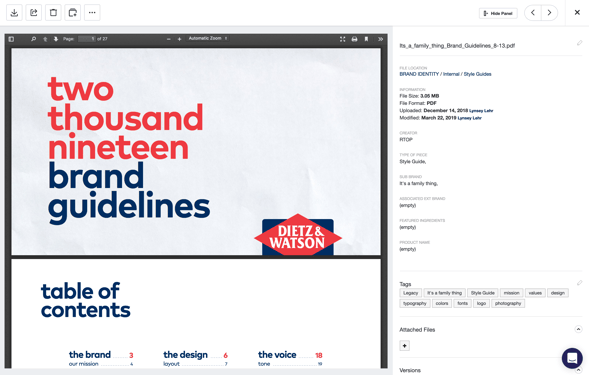 Improved Content Workflows
Dietz & Watson relies on in-house photographers and external agencies to conduct photoshoots. Before Image Relay, the photographers would provide the RAW files to Dietz & Watson's Dropbox so that a designer could go in and do touchups before sharing with team members who would download the images to their desktops. Now the photographers and agencies can upload directly to Image Relay, allowing photo management to happen in one location.
Team members no longer store images on desktops and then decide which ones are their favorites to use. Everyone works from the same set of approved images and Image Relay provides analytics to understand how and when team members use assets.
Previously it had been hard to both provide and prevent access to the right material. Team members could not find what they needed if an asset only lived on someone's desktop, or they had access to too much material in a shared folder with no asset information or expiration dates. With Image Relay's permission options, each team member has access to the assets they need. Adding metadata to files makes them findable but also provides important context about the asset and how to use it.
No More Disruptive File Requests
Before Image Relay, a retailer might submit a request for 100 images. The request would go to the marketing department, who would in turn reach out to one of Dietz & Watson's designers to find the images. Collecting all the images from the various sources of information would take an entire afternoon. An afternoon in which a designer was not spending time designing. This amounted to "hours per week of wasted time." With Image Relay, the images are now at everyone's fingertips, so these disruptive requests and hours wasted on non-skilled time have disappeared.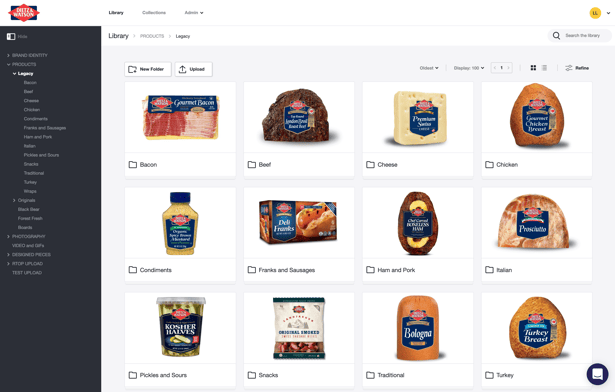 Peace of Mind
Perhaps most importantly for Dietz & Watson's lead graphic designer, Lynsey Lehr, Image Relay has provided peace of mind. Dietz & Watson had been burned in the past when files were inadvertently deleted and lost for good. Image Relay helps remove that fear and anxiety of potentially losing the company's important assets. Now Lehr says, "using Image Relay takes the weight off my shoulders."
Image Relay also helps with another source of work anxiety. If a team member could not find something in the past, they were afraid to ask. Lehr recalls that "as a new designer I wanted to succeed but asking other people can be disruptive and embarrassing." With all the assets in one place and with metadata adding context to files, there is no need to ask where to find something or if a particular asset is the right one to use.
"using Image Relay takes the weight off my shoulders"
Working With Image Relay
Easy Platform
Dietz & Watson's team finds the design of Image Relay "welcoming and not overwhelming." That welcoming design ensures higher adoption rates for Dietz & Watson's team and is "easy for not tech-heavy users." Lynsey Lehr says her team is "really satisfied" and loves that users can ask support questions directly to Image Relay's support team through in-app live chat.
"welcoming and not overwhelming"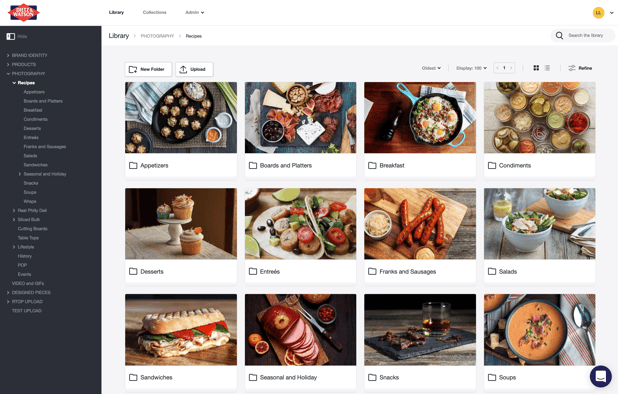 Smooth Implementation
Lehr describes the implementation process as "quick and painless" and "easier than I thought." James Fox, Image Relay's DAM Librarian and Implementation Specialist, led the implementation process over the course of six weeks in 2018. The process included collecting all 4,500 assets from the various sources, building a clear folder structure for organizing the assets, adding contextual metadata, creating permission groups to provide the right materials to the right users, and training the teams of users. Lehr describes James Fox as "extremely helpful and well-versed" and overall that "everyone has been really satisfied" with the implementation program.
"quick and painless . . . easier than I thought"
(all images courtesy of Dietz & Watson)