New: AI Auto-Tagging with Image Relay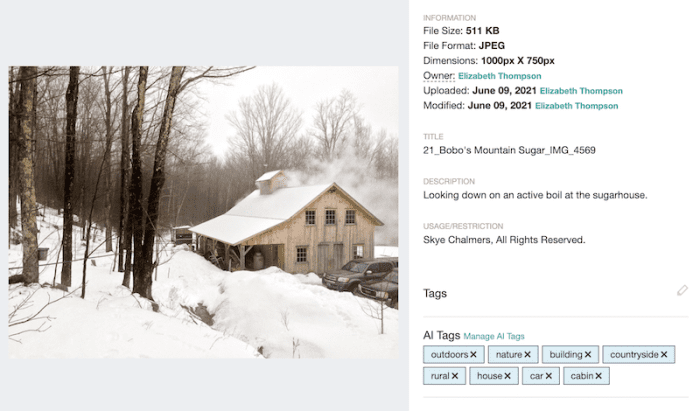 Image Relay was founded with a commitment to help creative and marketing teams get back more time for creating, and today we're making another big step in that commitment. Our new AI Auto-Tagging is a powerful enhancement that brings smart automation to your creative workflows.

Image Relay's advanced AI technology adds descriptive tags to every image file to make your content more searchable and get it in the hands of those who need it faster than ever. Our smart AI-Tagging feature will not only add significant efficiencies to onboarding as a new customer but will drastically improve and add more ways to search and find your content once you've fully integrated within Image Relay.
Content that has no tags or is missing key information makes it nearly impossible for you & your team to find the right content. This slows down work and adds frustration at every level. At best it's added time spent searching for what is needed and at worst your department needs to create new content which takes additional time and budget, which no one has. Manual tagging takes too long, is painstaking, and slows down getting content into the hands of the team members and partners who need it. AI Auto-Tagging is the answer. With accurate, relevant information added to every image, the right file is a quick search away.
All you have to do is upload a file and the AI takes care of the rest. For further refinements, AI Tags can be managed at the individual file level or across your entire content library, giving you the control and reach you need to get the job done.
For new companies just starting with a DAM, there's nothing more frustrating to marketing managers than staring down a massive job of uploading backlogs of content, knowing your team has hours of tagging and metadata entry before anyone at the company can begin to connect with what they need. Our new AI Auto-Tagging feature helps alleviate the pressure of this onboarding work, making your content automatically tagged within moments of being uploaded to the platform and immediately searchable for your broader team.
AI Auto-Tagging Benefits:
Faster Creative
Our AI Auto-Tagging expedites the onboarding process by automatically adding smart AI tags to every piece of creative you load to our site. These smart tags make your content instantly searchable which helps to get your creative documents into the hands of your team and partners faster.
Improved Discoverability
AI Auto-Tagging uses a variety of expanded AI capabilities which increases the smart searchability of your content, reducing the time you and your team spend looking for the assets you need. Why spend extra time searching when we can help you find the content you need?
A Team Freed Up for Creativity
AI Auto-Tagging quickly connects you with the assets you need, when you need them, helping to give you and your team back valuable time. Reduce the time spent searching for content, and see what happens when you leverage the time generating new creative projects.
We've also improved our other artificial intelligence capabilities to help teams better manage their content and creative workflows.
Expanded AI capabilities: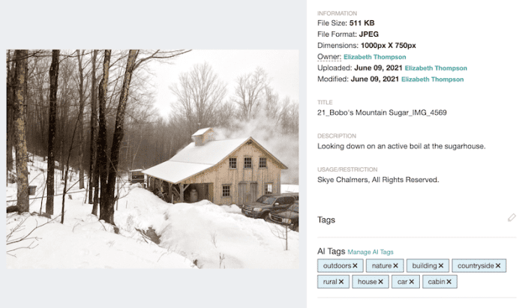 Smart Curation
Image Relay's automatic asset insights increase content discoverability and reuse. Eliminate your resource drain through automated content organization and. You keep creating and let AI do the work for you.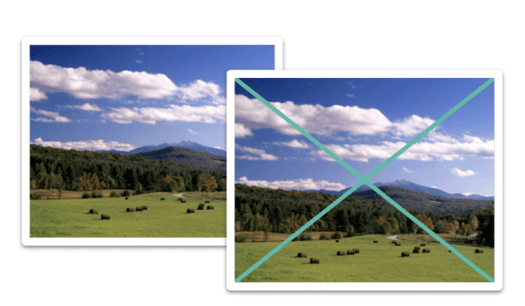 Automatic Duplicate Detection
Our AI analyzes every file and automatically detects if there are duplicates in a file upload. This added layer of detection keeps your library uncluttered and gives peace of mind knowing your team is armed with the most accurate & up-to-date content.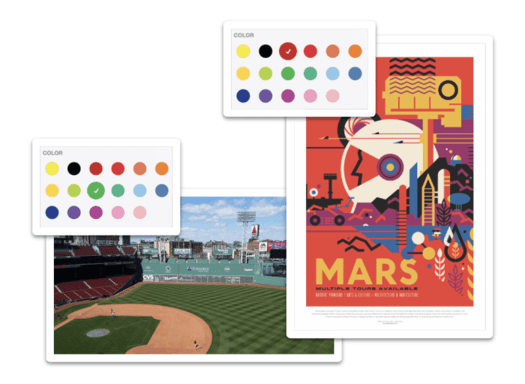 Color Inspiration
Image Relay uses advanced AI to automatically extract the predominant color from every image file loaded to your account. Refining your library or folder by color shows you the most relevant assets. With this increased discoverability, your team can find the right files to fit the mood of every project. Need some ideas or inspiration for an upcoming campaign? They are just a click away.
How can you get Image Relay's AI tools?
If you want to boost your team's creative workflow with Image Relay's AI Auto-Tagging, please reach out to us at sales@imagerelay.com.