Meet the Coolest Creamery on the Block: Marketing Delivery helps brands get organized so they can grow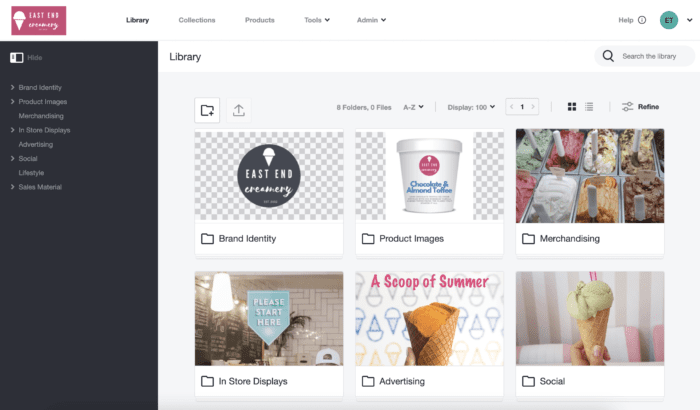 East End Creamery hasn't always enjoyed the levels of ice cream fame that they experience today, and it didn't come served in a silver cone.
Rather, East End Creamery made a series of business-savvy moves that propelled them to the top of the ice-cream biz.
While they were still a startup, East End Creamery realized they needed a way to store their digital assets and manage their product information. Early on, their brand assets lived on desktops, hard drives, and Google Drive, while their product information was stuffed into various spreadsheets. To grow their brand, they knew they needed a better, more unified system. They found it in Image Relay's Marketing Delivery.
Consolidate and Simplify
As East End Creamery grew, so grew their digital assets and product offerings. Without a system to stay organized, EEC's brand elements, packaging design files, website copy, and product shots began to clutter up desktops, getting buried in lengthy email threads and sitting unused in Google Drive folders. Meanwhile, East End Creamery's staff was working double-time to keep their e-comm channels up-to-date and accurate with properly formatted product descriptions and the right images to showcase their handcrafted flavors.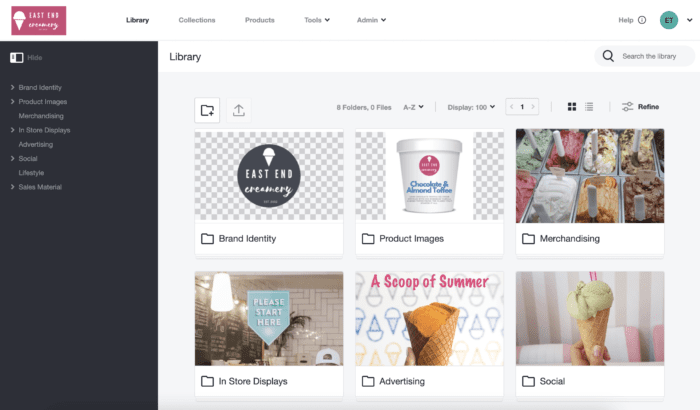 With Marketing Delivery, EEC was able store all of their digital assets and product information in one place, saving them time and easing their workflow. They felt the difference immediately. The Library housed digital assets, and the Products Page kept their product information in line.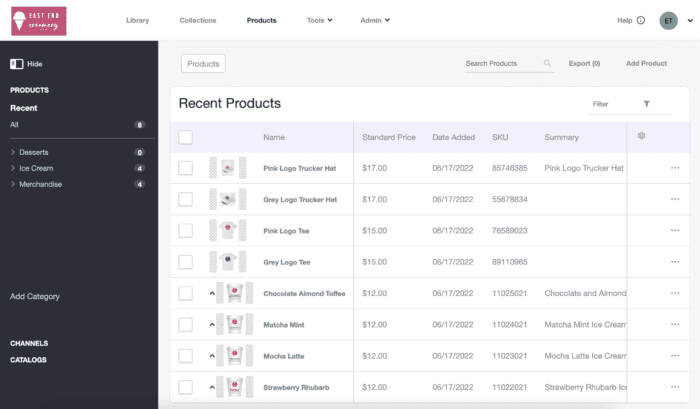 East End Creamery staff loved the change. Their work became more efficient as they spent less time updating assets, and they sold more ice cream thanks to better-managed retail channels. Best of all, countless headaches were saved once they stopped having to send out mass emails in hopes of finding one specific asset.
Getting the Flavor Out
Today, East End Creamery is planning a late-summer launch of an exciting new flavor. It's all hands on deck to get the word out to customers, share approved advertising assets with retailers, and update product information. Marketing Delivery's efficiencies will help their teams stay united, focused, and in control of all aspects of the launch.
The team is especially loving the ability to create Collections, curated groups of assets to help unite and guide a campaign. Collections are easy-to-create, visually appealing, and help the brand stay consistent.
For the new flavor launch, East End Creamery has built a collection that includes their branding materials, new product photos, associated copy, and a short description of how to put all this material to use. For brick and mortar retailers like EEC, collections make it easy to print hard-copy advertising and other promotional material for their stores. East End
Creamery can send out their curated collection knowing any assets supporting their new products will be pre-approved, on brand, and ensure everyone is working from the same materials.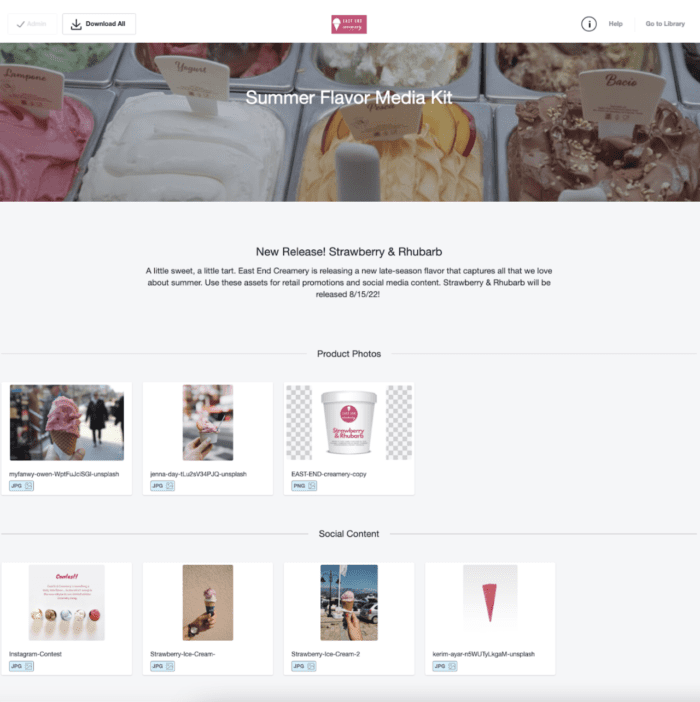 On the products side of Marketing Delivery, the East End team has already added their new flavor with variations to the product lineup. Now it will be ready for various eCommerce channels when the time is right. The Products Page is all about ease and accuracy:easy delivery and accurate product descriptions, anywhere and everywhere they're needed.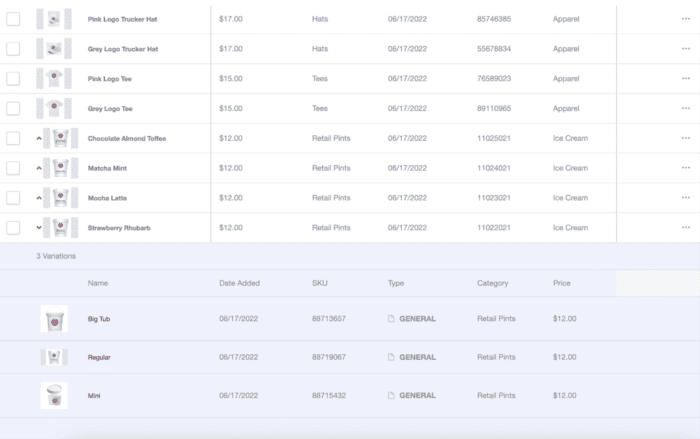 One Step at a Time
Although East End Creamery has been enjoying the benefits of Marketing Delivery, they didn't have a perfect plan for how to utilize it from the get-go. To get a smooth start, they relied on Image Relay Librarians, who designed an organization system to accommodate their specific needs.
Image Relay Librarians work with all clients, new or old, to ensure every experience is optimized and every Marketing Delivery feature that could be useful is utilized. East End Creamery even set up a weekly check-in so the Librarians could help facilitate their product page development.
Growth Mindset
East End Creamery is expanding rapidly and looking forward to a continued partnership with Image Relay. Although they adopted the platform as a small start-up, Image Relay's scalable pricing and services are designed to evolve along with the brand.
From young companies still securing a foothold to enterprise-level businesses with a multi-national reach, Marketing Delivery is built to grow as you do.
One Last Scoop
Now that you're good and hungry, before you go looking for the nearest East End Creamery shop, we have a confession to make. EEC is actually a demo client inspired by some of Image Relay's amazing customers. But the story of East End Creamery's game-changing experience with Marketing Delivery showcases how Image Relay can help brands get organized so they can grow at the scale of their dreams.