Case Study: Ben & Jerry's Relies on Image Relay to Meet Global Distribution Needs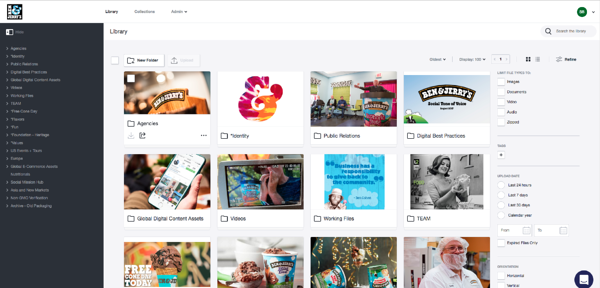 The Challenge
Centralize assets for access by a worldwide team and agency partners
End the slow process of manually uploading and distributing
Eliminate fulfillment requests
The Solution
An intuitive and easy-to-use asset management system
Advanced permissions to provide the right content to the right users
Fast self-service to accelerate time to market
By the numbers
600+ users
66,000+ assets
15,000+ new assets last year
38 countries
"It's night and day between Image Relay and other tools. Everyone who uses it loves it."

- Sarah Badger, Global Content and Community Manager, Ben & Jerry's
About Ben & Jerry's
Ben & Jerry's is the legendary ice cream brand that started with two friends in Vermont in 1978. Beginning in a small scoop shop in Burlington, Vermont, Ben Cohen and Jerry Greenfield, grew their ice cream brand to international success through iconic flavors like Chunky Monkey, Cherry Garcia, Phish Food, Half Baked, and Chocolate Chip Cookie Dough and a unique business ethos. Led by their founders, Ben & Jerry's has been a leader in corporate ethics and an example for companies trying to do good in the world. From sustainable, values-led ingredient sourcing to a deep commitment to social and climate justice, Ben & Jerry's may be as well known today for social activism as it is for ice cream.
The company was acquired in 2000 by international consumer goods company, Unilever, and further expanded internationally, with distribution now in 38 countries. With all of that growth came an explosion in content. A large number of international markets, an accelerating collection of new products, a continued and growing social mission, and a massive social media presence meant that Ben & Jerry's needed a way to effectively manage these growing content demands.
Before Image Relay - Slow, manual processes
Like many companies, Ben & Jerry's relied on internal shared servers and hard drives to manage digital assets. This allowed them to generally know where everything was but created big challenges for providing their growing team with access to content. Assets were hard to find and were not fully utilized.
The system of internal servers also created slow workflows for ingesting, organizing, and distributing content. Sarah Badger, the Global Content and Community Manager, would receive new groups of assets from team photographers and then need to sort and upload before manually distributing to the end users of the content. The process was frustrating and time consuming.
What they needed - Easy, Reliable Access
The growing team and increasing content demands required a solution that provided accessibility for team members across the globe and to third-parties working closely with the company, including creative agencies. Internal servers and existing company solutions were simply not an option.
Not having a self-service option was a frustrating bottleneck in Ben & Jerry's workflow and the hundreds of team members around the world who needed secure access to the appropriate content.
Results
Easy access
Image Relay set up Ben & Jerry's with an easy-to-use digital asset management solution that made it easy for content creators to upload assets and for users across the world to access the assets they need. With an intuitive design, an easy-to-manage folder structure, and powerful search features, users can get what they need when they need it. Image Relay provides security and control over content but allows for flexibility that other solutions do not.
"Making everything easily available - this is what I worry about. Image Relay helps me sleep better."
Time Savings
Image Relay has reduced the need for tedious manual processes to ingest and distribute content. Fulfillment requests and questions about locating assets have reduced dramatically.
"The number of people with access has increased and the number of people who can't find what they need has dropped a lot."
This has led Ben & Jerry's to encourage agency partners to use Image Relay instead of other solutions, like Dropbox or Hightail. Reducing the need to download, review, and re-upload files can save Sarah Badger and her team up to a full day of work on a single large file share. This means more time can be spent on the useful work of ensuring that Ben & Jerry's valuable content gets out into the world.
Fast learning
As a large and growing company, turnover is a constant concern. Badger was concerned about new team members needing a lot of attention and training to get up to speed on the system. This hasn't been an issue. Although prepared to provide information to new team members about how to use Image Relay, Badger has found that, "because Image Relay is so intuitive and easy to navigate, we don't hear from them."
Continued Success
While working with Image Relay, Ben & Jerry's found an easy and reliable software tool and a responsive and accommodating partner. Questions are handled quickly and Ben & Jerry's also provides important influence on the direction of Image Relay's product development. There are no forms to fill out that go off into the void. Instead, Badger trusts the Image Relay team to be incredibly responsive and easy to talk to.
"I don't know any other vendor who I can get on the phone with and tell them something and then it gets fixed."
Those requests can be seen turning into direct action so Ben & Jerry's enjoys the use of a product evolving to serve their specific needs. Badger says that Image Relay team really cares about making sure her team can be successful.
"They involve me in the process and I feel like a valued partner."
(All images courtesy of Ben & Jerry's.)