Champlain College Relies on Image Relay for Community-Wide Access to Marketing and Editorial Photography as well as Identity and Brand Assets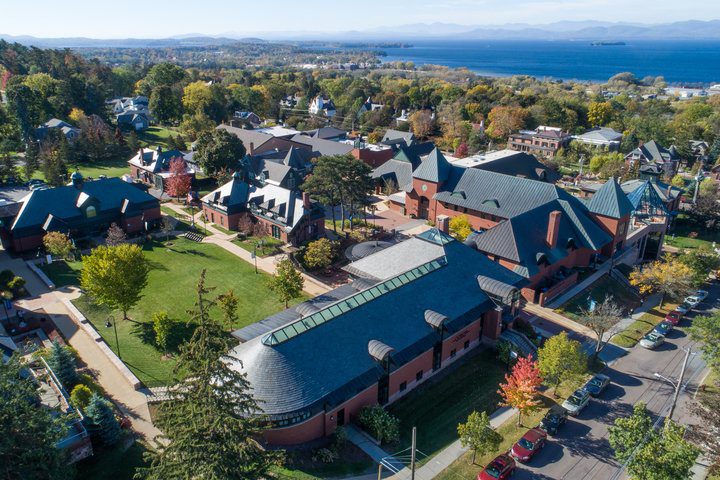 The Challenge
Central repository for all creative assets accessible by the entire College community, including student workers
Robust search options to quickly find the right material
A secure DAM and reliable service to replace a broken system
The Solution
Access to a community of 3,000 through College credential single sign-on
An easy-to-use system that works like a "stock" search
Responsive service when something happens off the platform
By the numbers
3,000 community members
18,000+ assets
Entire library duplicate provided in less than 24 hours
About Champlain College
Champlain College is a private, not-for-profit college founded in 1878. Located in Burlington, Vermont, with additional campuses in Montreal, Canada and Dublin, Ireland, Champlain College is known for its innovative majors, and holistic approach to education that puts emphasis on professional development and real world experiences. Besides their scenic hillside campus overlooking Lake Champlain, they also offer a growing number of online degrees and certificates and when combined with their national marketing reach their digital footprint goes well beyond this small college town. As such, Champlain College, and its network of chosen vendors, leverage a robust library of highly organized brand assets and photography to help communicate with prospective and current students alike. Keeping this expanding library organized, accessible, and relevant led the College to Image Relay.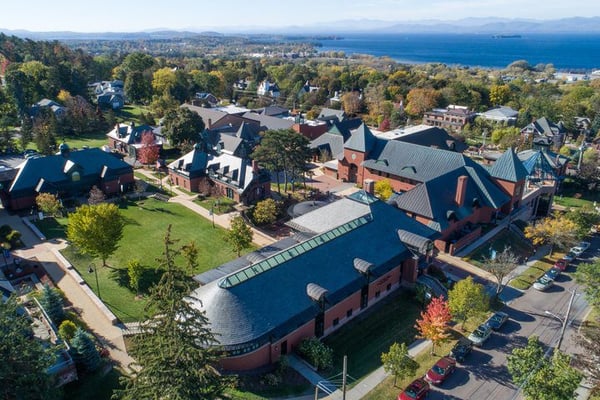 (photo credit: Ryan Bent)
Before Image Relay - A Broken DAM
Champlain College had an older, dedicated cloud-based digital asset management system in place, but its poor user interface, lack of control and customization, and its unreliability (and eventual crash) led the marketing team to resort to storing their assets on the school's network, local hard drives, and on DVDs. This created a nest of unorganized photography, duplicate assets, and version control issues. And because they couldn't rely on a photo's metadata it became the job of the designers to go searching for brand assets and imagery. Searching for a requested image could sometimes take up to an half an hour. It was a painfully slow and frustrating way to work.
"In order to locate a photo or a graphic we had to rely legacy knowledge. Trying to find images meant going on a wild goose chase. Thankfully those days are well behind us, and the designers can be much more transparent and collaborative with the rest of our team."
What They Needed - Security and Ease
Based on their previous experience, the college went on the search for a platform that was easy to customize and maintain and that could serve the needs not only of the marketing team but the whole institution. But most importantly the new platform had to be secure and reliable. Champlain College could not worry that their assets could be lost or that a system would have constant downtime when they needed it the most. Image Relay's security, redundancies, and 99.9%+ uptime convinced Champlain College that they would not have to worry about the problems that affected their previous system.
Champlain also needed an easy-to-use system so that a large community of users could find what they needed, when they needed it. Something that required a lot of user training or complicated user management would not suffice. That made Image Relay's award-winning intuitive design attractive.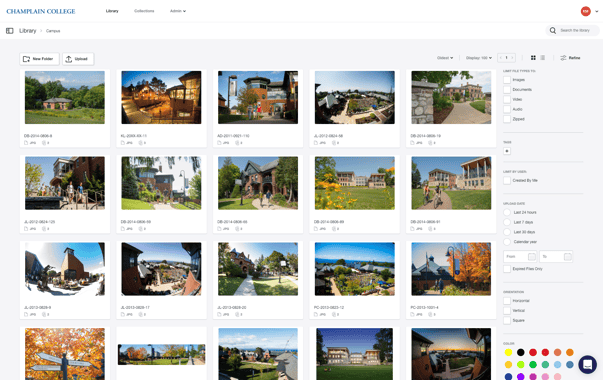 Results
An Easy "Stock" Search
What used to take hours to find the right images for a piece now only takes moments. "It's like searching for stock photos now." Champlain College utilizes Image Relay's Keywords tool to add metadata descriptions to images based on the facts of the image, rather than the subjective interpretation of a photo. This allows a team of two designers to quickly process photoshoots and keep images organized for the whole institution. With Image Relays IPTC search feature users can string together the "facts", or keywords associated with an image and find photos that pair well with messaging points. If individual users want to further organize the database by more subjective descriptions (innovative, aspirational, success, etc.) they can utilize Image Relays Collections, a feature that also allows individual who may not have administrative privileges to group photography any way they prefer. The best part is users can share these individualized groupings with others which makes the Collections feature a great tool for collaboration and approval.
A Consistent Brand On All Channels
Wide adoption of Image Relay across the entire College community has been an added benefit for the marketing team. Everyone across the greater Champlain College community, professors, vendors, and the student body, know that Image Relay is the source for all approved College imagery. That means there is a consistent brand message, and not just in the obvious places like the College's central website or on official social media accounts. From web properties to newsletters and emails at all levels, users across the Champlain College community leverage approved final content from the Image Relay library.
"Brand imagery has permeated to all formal and informal channels."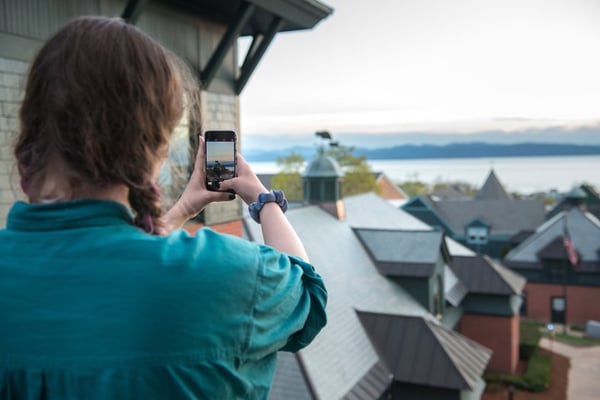 (photo credit: Ryan Bent)
An Evolving Platform and Responsive Team
There are no perfect software solutions but not all software companies continue to evolve with the changing needs of their customers. Champlain College appreciates the development of the Image Relay platform over time and how the team at Image Relay responds to feedback. "Early on there were some issues with speed but that has been ironed out. Now the interface is very fast." Champlain College also wanted to see improvements in the Collections feature and "Image Relay promised and made it happen." In addition to positive product developments, the Champlain team relies on Image Relay for fast support. Using the in-app chat feature, Champlain users can get answers to their questions in less than a couple of hours.
"Chat is great. The team is super responsive."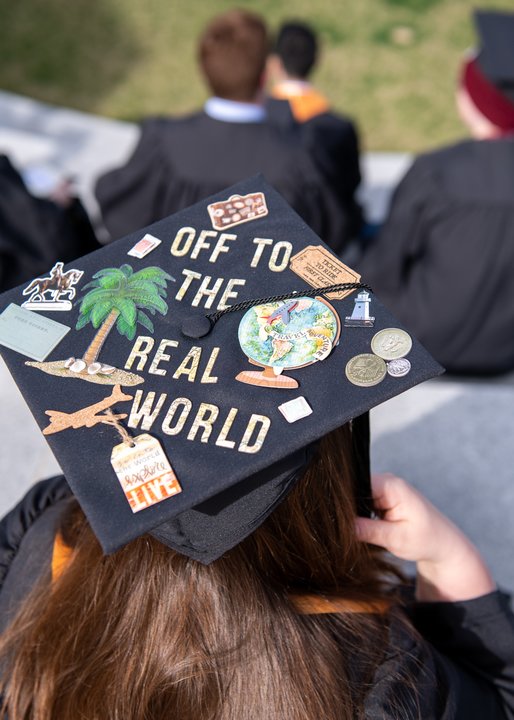 (photo credit: Ryan Bent)
Fast Service for a Failsafe
In December 2018, Champlain College experienced a scary crash of an internal hard drive. They used this hard drive as a backup for all the assets stored on Image Relay. Although their assets were safe in the cloud on Image Relay's secure and resilient server network, Champlain College operates with an abundance of caution. Having lost their assets when a previous DAM provider's system crashed, Champlain College did not want to take the chance again.
This time, however, it was the backup that failed.
Kevin Manley, Champlain's Design Manager, reached out using Image Relay's in-app chat and heard back within an hour from the Image Relay team. Max MacDonald, Image Relay's senior sales engineer, hand-delivered a thumb drive with Champlain College's entire library in less than 24 hours. This fast action saved Champlain's failsafe backup and no users felt any disruption whatsoever.
"It took our internal IT department longer to reply."