Remote Work - Three Weeks in Oaxaca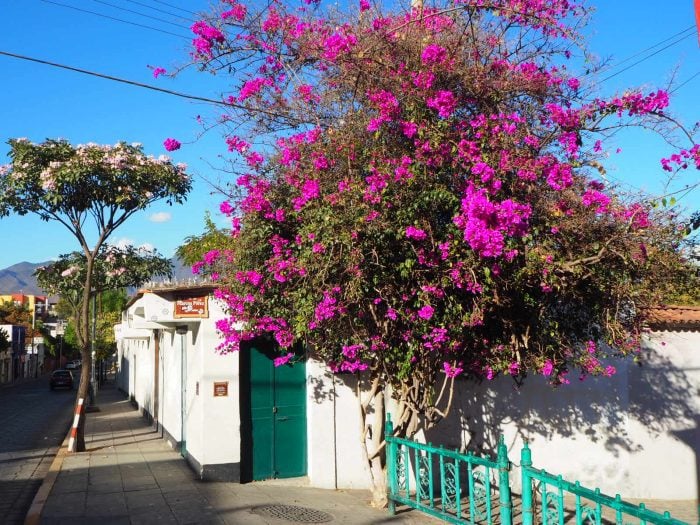 Earlier this winter I decided to work remotely from Oaxaca, Mexico for about three weeks. It had been a long fall. I had surgery on my ankle in September and was housebound and on crutches for several months after. Normally in the winter I head up to Vermont to hit the ski trails, but a long recovery from surgery prohibited that. So I decided to head south for some sun!
Working for a company whose team is entirely distributed allowed me to move forward with this plan. Our team is spread out through New England, Michigan, Texas, New Jersey, and Idaho, so working from Mexico was not a big stretch. With this plan I was able to get the best of both worlds; breaking up the monotony of a New England winter without having to take too many days off from work. (Working remotely also allowed me to work easily while I recovered from surgery without having to hobble around Boston's public transit system, which is usually hobbled itself, but that's another story.)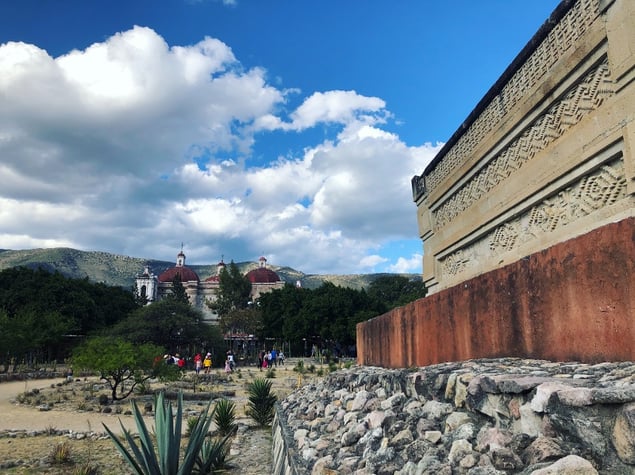 The Mitla Archaeological Site
Why Oaxaca
I chose Oaxaca, Mexico for a few reasons. On the business side, I wanted a place that was within U.S. time zones so that I could continue to attend team meetings and help the majority of our clients, so that made Europe or Asia a tougher choice. I also wanted a place with reliable internet, and most major cities in Mexico have that. Finally, I was looking for a place that had a good digital nomad scene, with plenty of coffee shops and WiFi-connected working spaces.
On the more personal side, I was looking for somewhere warm and the weather doesn't get much better than Oaxaca in February. I also wanted somewhere where I could walk almost everywhere and would not need to rely much on public transportation or need a rental car. Finally, I wanted somewhere where I would feel safe as a lone female traveler. I have been to Oaxaca before, over Christmas 2019 with my partner, and felt very comfortable there. It seemed this small city would fit the bill!
Oaxaca de Juarez is a city of roughly 300,000, with a larger metropolitan area of 600,000. It is the largest city in the state of Oaxaca, set at about 5000 feet and surrounded by mountains. Oaxaca state has the largest indigenous population in all of Mexico, and languages such as Mixtec and Zapotec are still spoken today. The city itself is a charming mix of colonial and Spanish architecture, cobbled streets, markets, cathedrals, and shops with lots of flowering trees and street art in the mix.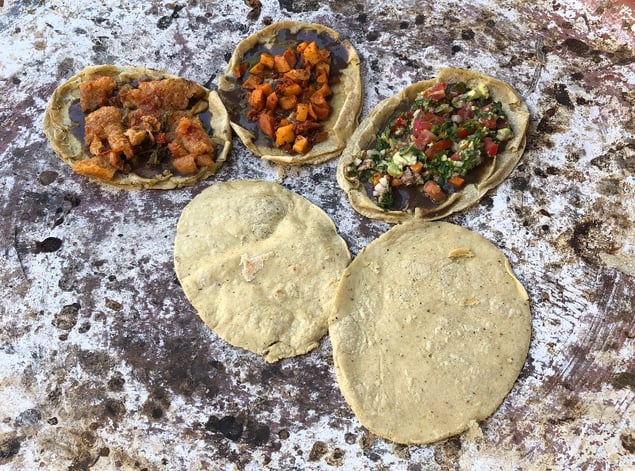 Memelas cooking on a comal
Working in Oaxaca
During my time in Oaxaca, I worked ten full days, had seven days off (including weekends, one vacation day, and one holiday), and two travel days. Over the course of my trip, I only took two full vacation days! But between the days off and the time before and after work, I felt I had plenty of opportunities to explore both the city and the countryside.
My work days were mostly business as usual, but with more sun! I prepared breakfast at my AirBnB, which I made sure had a small kitchen when I was booking. I'd work through the mornings and then go out for lunch to the local market, or grab some tacos de comal on the street. I worked most of the afternoon on my small terrace, which overlooked a courtyard filled with plants! While in Oaxaca, I stuck with the east coast time zone, and worked from 8am to 4pm. WiFi in my AirBnB was pretty good, but I did bring a hotspot along in case it went out.
The tools that I use every day for remote work in the U.S. of course translated over to remote work in Oaxaca. Google Drive, Docs, and Sheets, Slack, GoToMeeting or Zoom for conference calls and webinars, and our own internal Image Relay DAM. All of these make it possible to collaborate and communicate easily with my colleagues.
When I wanted to go work elsewhere, I found myself frequenting a small coffee shop called Mondo Cafe. They have great coffee drinks, homemade granola, and solid WiFi. It seemed to be a favorite spot of digital nomads and other expats with a primarily English-speaking clientele, although it was not in the main tourist neighborhood.
Another interesting place to work was the courtyard of the Graphic Arts Institute of Oaxaca. Part library, part gallery space, part community center, this space has the largest collection of art books I've ever seen. In the center is a courtyard where a mix of college students, expats, school-aged children, and language exchange partners all working away.
In some ways, I felt that I had made time to get my work done while in Oaxaca. Without the distractions of home--cats, laundry, dishes, grocery shopping--it felt that I had even more time to focus on work! So I was able to easily accomplish all of my regular tasks including planning a webinar, implementation meetings, handling customer support, and more.
In short, the things that made my remote work in Oaxaca successful were:
• Being in a time zone that worked for my organization
• A fast WiFi connection
• Having a comfortable workspace such as table or desk
• Having a small kitchen to prepare meals at home
• Sticking to my normal schedule
• Having a community of coffee shops and other locations to work from
• Having the appropriate software for remote work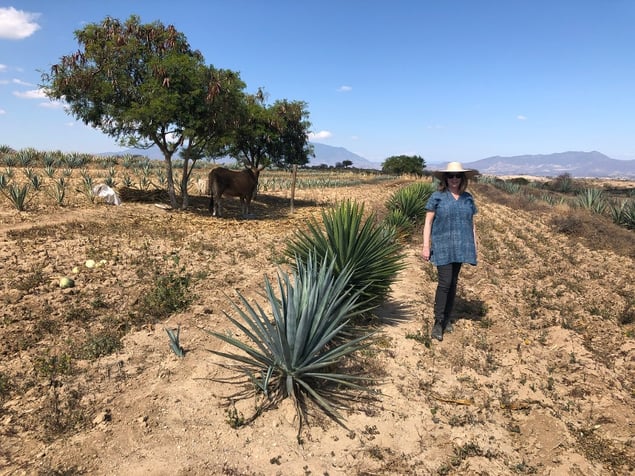 In the agave fields of a palenque where they produce Mezcal
Enjoying Oaxaca
Even though I did work my regular schedule for the most part, I still had plenty of time to enjoy the city and its surroundings! On the days that I worked, I would go out for lunch mid-day, and then take a long walk in the evening. Oaxaca has numerous neighborhoods to explore, including the Centro Historico, Jalatlaco, and Xochimilco. Most of them were a short walk from my AirBnB. Many of the museums stay open until 8pm, so it was easy to visit after I finished my workday. The main tourist area, Santo Domingo, was about a seven minute walk from my AirBnB, and I would frequently end my evenings there, with an elote or sweet treat, and watch the people enjoying themselves in the square.
One of my favorite activities within the city was exploring the many markets. Near me was the smaller Mercado Sanchez Pascuas where the people in my neighborhood would shop. There was a series of local "comedors" where you could get a fixed lunch for a very reasonable price, as well as stands to buy tamales, agua frescas, tlayudas, and memelas. Further south was Benito Juarez, where you could find everything from hats and sandals, to toys, tablecloths, baskets, and more. And even further south was the largest market in the state of Oaxaca, Central de Abastos where chefs and home cooks alike shop for the best produce, meat, and fish. This market also has some of the best food stands in town, as well as the women selling Tejata, my favorite pre-hispanic beverage made of cocoa, maize, mamey, and flor de cacao.
On the days I had off, I took several day trips outside of the city. On one day, I visited the Zapotec ruins of Yagul and Mitla which are about an hour outside of the city. On that trip I also visited the calcified waterfalls of Hierve el Agua; a real Instagram hotspot. On another day trip, I went to the largest regional market held on Sundays in Tlacolula and sampled barbacoa, nieves, local chocolate and more. From there we visited a palenque where they produce artisanal mezcal, and got to see the process from start to finish with a tasting of 14 mezcals at the end (don't worry, the samples were very small).
On my last weekend in the region, I took a trip up into the Sierra Norte mountains. There I visited the Pueblos Mancomunados, a set of eight commonwealths governed separately from the Mexican government, and protected under a unique set of ecotourism initiatives. Each village has a little tourism office with guides and accommodations, and you can hike, mountain bike, or go horseback between the villages. I stayed overnight in the village of Benito Juarez after riding all day. I enjoyed a dinner of delicious locally raised trout, and had a roaring fire in my little cabin at 9500 feet.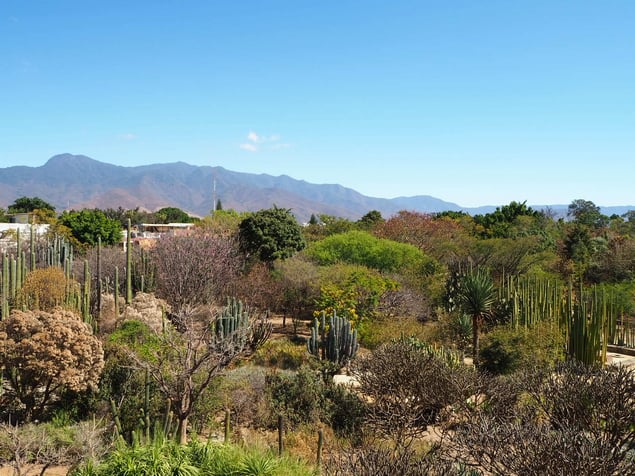 A view of the Ethnobotanic Gardens from the Culture Centre at Santo Domingo
If You Go
Food and Drink:
Levadura de Olla: This small restaurant, which just opened in December 2019, focuses on preserving traditional Oaxacan dishes that are slipping away, as well as modern takes on those dishes. Great service and spectacular flavors, this place is currently under the radar but I guarantee it will soon be packed. I loved the tamales, beef stew, and mole negro in particular.
El Destilado - This American-owned spot is well known for its tasting menu, but I particularly love the tacos and cocktails on their beautiful terrace rooftop.
Mo Kalli - Maybe my favorite dining experience of the entire trip. This little restaurant outside of the town of Tlacolula is run by Catalina Chavez, a concinera traditionale, who specializes in the regions delicious moles. This could be combined with a trip to Mitla, Yagul, or Hierve el Aqua, which is what we did.
Sabine Sabe - Fantastic and innovative cocktails. Unlike many bars in Oaxaca, you can get drinks with other alcohol besides mezcal.
Street and Market Food - There is tons of fantastic dining throughout Oaxaca both on the streets and in the markets. I personally eat everything, and have never had an issue getting sick. Just look for vendors that are busy, and older people and children are always a good sign. Popular street and market food and drinks includes tacos de comal, tlayudas, quesadillas, memelas, empanadas, tostadas, hamburguesas, elote and esquite, marquesitas, agua frescas, licuados and tejate.
To Do
Archaeological Sites: Monte Alban is the largest archeological site in Oaxaca and definitely worth a visit, perched atop a hill with spectacular views of the valley below. The puebla of Mitla has been occupied since it was built in 750 AC, and was the most important religious center of the Zapotecs. The two sites are very different and seeing both will give you a larger spectrum of the architecture and art of the area.
Teotitlan del Valle: This small village about 40 minutes away from Oaxaca is known for its handwoven rugs. Many of the workshops will demonstrate the weaving process and how the natural dyes are produced and used. There is also a great little market in the town from 7:30 am until 11am, and an impressive museum on regional crafts.
Mezcal Tour: Mezcal is a very important part of the culture in Oaxaca, and it's worth taking a trip into the countryside to see how it is produced. There are two guides I can recommend who can take you on a day-long trip that includes visits to several Palenques as well as visits to regional markets, artisans and more: Oaxacking and Mezcouting. Both have very knowledge English-speaking tour guides and will provide a very memorable experience.
Santo Domingo: Many of Oaxaca's restaurants and museums are centered around the Church of Santo Domingo, but the complex itself houses a beautiful museum, the Cultural Centre of Oaxaca, and the Jardín Etnobotánico de Oaxaca. It's worth spending an afternoon exploring the pre-hispanic and post-hispanic collection at the museum and seeing the gilded interior of the church.
There are lots of small museums in Oaxaca that you can explore in under an hour, and some of my favorite are the Museum of Oaxacan Painters, the Textile Museum of Oaxaca, and the Alvarez Bravo Photographic Center. Be aware that there is little English translation at any of these museums, but the art speaks for itself in most cases!